BARON PARK



Donjon des Cîmes
FR . VENDÉE . Fontenay-le-Comte


Set up in the Spring of 2010, the " Donjon des Cîmes " is located on a medieval hill where one can still make out the remnants of a fort.

Le Donjon des Cimes – France 3
This feudal castle was one of the most important castles in the region. Its ruins are ancient, hence the Chien Noir crew's wish to create a first Parcabout® in 2010 with a medieval flair. In connection with the history of the location, this Parcabout® was rethought and replaced in 2016.
A maintenance crew came to repair the damage caused by use and by storm Zeus in early 2017: "Two trees fell in the park, one of which supported the main structure, made of three units. We had to cut the cables and look for other trees farther away to support the units", one of the repairmen on site
explains. This Parcabout® is located in Parc Baron, in Fontenay-le-Comte, Vendée.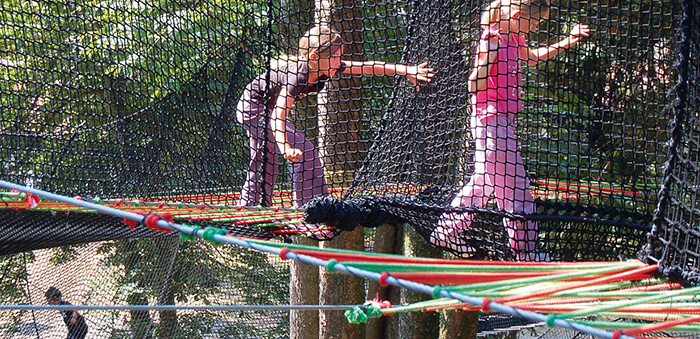 15 000

entrées par an environ

2010
Conception and installation of a 2000m² Parcabout®
Public Sector – City of Fontenay-le-Comte.

2016
Installation of a 1600m² Parcabout®,
Public sector – City of Fontenay-le-Comte.
Web : www.parcabout-fontenay.fr
46 ° 46 -I-  00 ° 80